If you're obsessed with Girl Scout cookies and enjoy wine, then this event is just for you. Girl Scout Cookies & Wine Pairings will take place on Friday, February 25 at 6 pm. at 34° North Restaurant, located at the Beaufort Hotel. From Thin Mints to Trefoils Shortbread, we have the perfect wine for every cookie!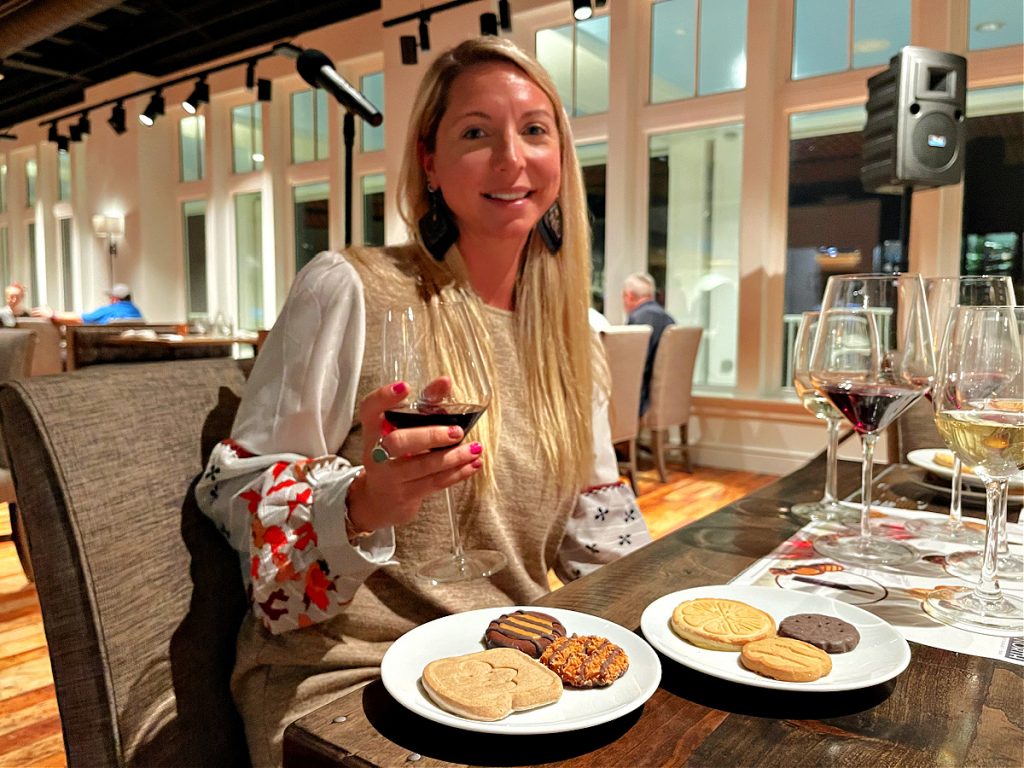 Special guest will be Ami Paul Doss, Sales Representative, from Empire Distributors, Inc. Guests will sample two flights of three wines each paired with cookies.
Please note: All six wines will be available for purchase at a special price.
This event supports the Girl Scouts North Carolina Coastal Plains. Proceeds from the sale of Girl Scout cookies will benefit Girl Scout Troop 857 in Beaufort.
---
Event Details
Date: Friday, February 25, 2022.
Time: 6 – 7 pm
Price: $25 per person, plus tax and gratuity.
Advanced Reservations Only: Reservations are required for this special event. Call 252-838-7250 and mention Girl Scout Cookiie Wine Paring or visit their website and book through OpenTable. For online reservations, please add in the notes section "Wine Paring"
Parking: Complimentary valet parking for restaurant patrons.
Make plans for dinner after the wine tasting.
---
Background on the Girl Scout Cookies: One hundred years of Girl Scout cookies.In July 1922, Girl Scout national headquarters published an edition of The American Girl magazine for all Girl Scouts. The issue contained a recipe for a sugar cookie that could be baked and sold to raise funds for local councils. Thus, the simple sugar cookie was arguably the first true Girl Scout Cookie. Girl Scout troops could bake these cookies and sell door to door for 25 to 35 cents per dozen.
---
STAY CONNECTED TO BEAUFORT
Don't miss the boat! Stay connected with "America's Favorite Town" so you'll be up-to-date on the events, activities, and things to do throughout the year in Beaufort, North Carolina.
Most of all, become part of Beaufort's online community! Be sure to like us on Facebook and follow us on Twitter.