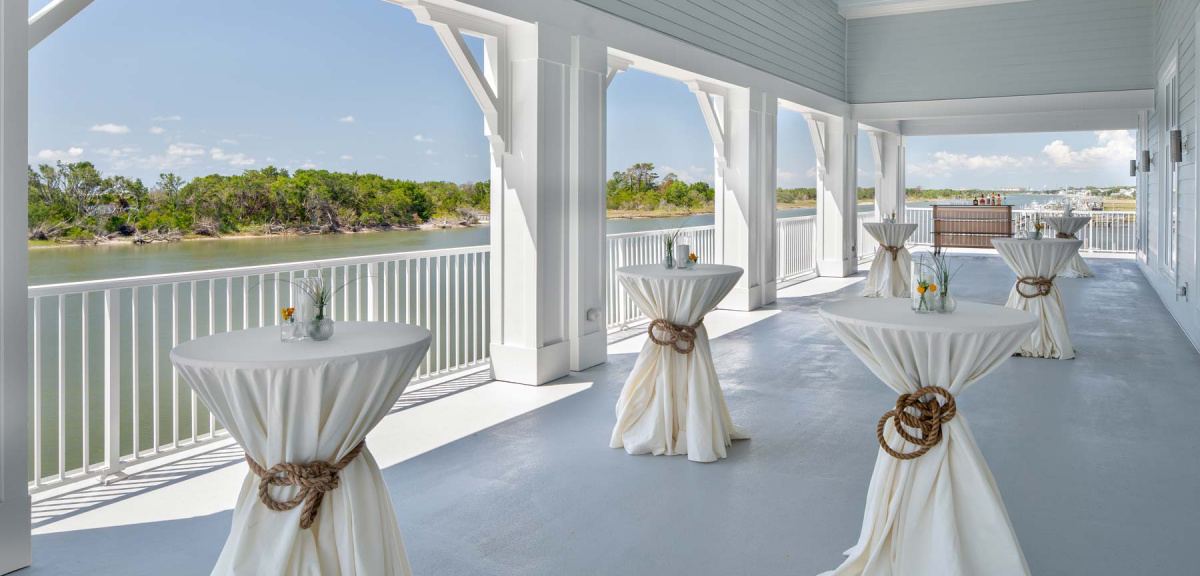 Distinctive venues. Creative events.
Distinctive venues in Beaufort bring together one-of-a-kind events for groups looking for something new.  Find the perfect meeting space that allows you to be creative for meetings, conferences, and special events.  Choose a unique and unforgettable venue that's entirely outside the ordinary to instantly set the scene for a wedding that your guests will never forget.
Today, people want memorable meetings in unique spaces. Most of the time, this means venues that weren't designed for events.  In Beaufort, you'll discover some very unique and historical venues that will intrigue and excite your guests.
The Backstreet Pub's Outdoor Beer Garden
The enhanced space at The Backstreet Pub provides more room for outdoor entertainment and can be easily used as an event venue. It's perfect for after-parties for weddings. The beer garden includes an outdoor bar that serves the same 10 beers that are on tap inside the building, as well as bottled beer and liquor drinks. There's also outdoor seating and restrooms. Over the years, pieces of nautical memorabilia from their journeys have covered the walls. It's no wonder, The Pub has been called the "friendliest, funkiest little bar from Maine to Venezuela." The historic and nautical theme that fills the walls inside the iconic pub will eventually be carried to the outside beer garden. In 2012, Garden & Gun magazine named The Backstreet Pub one of the "50 Best Southern Bars."  It earned this designation under the "vintage bars" category. The Backstreet Pub, 124 Middle Lane, Beaufort, NC 28516. 252-728-7108.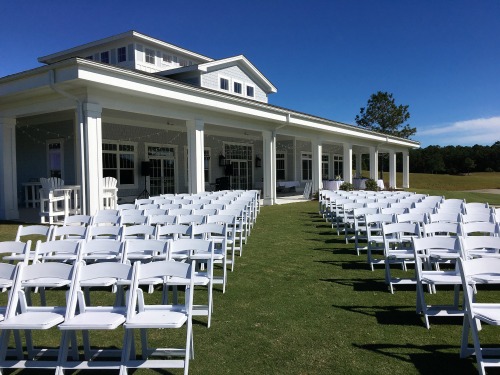 The Beaufort Club
The Beaufort Club boasts a brand new clubhouse and a top ranked 18-hole Bob Moore golf course. Offering scenic views in a private setting, the clubhouse is an ideal venue for your wedding or special occasion. The clubhouse includes a full bar and dining area, auxiliary room, and a large veranda overlooking the 9th and 18th holes. Personalize your special occasion with custom set-ups to create the event you envisioned with breathtaking views of the Beaufort Club as your backdrop. The Beaufort Club is a master planned community designed for the good life with great amenities within reach. The golf community is located just a short drive from the Beaufort Historic District. Ask about special golf and lodging packages with the Beaufort Inn when you book your event. The Beaufort Club, 300 Links Drive, Beaufort, NC 28516. 252-728-5525. www.beaufortclub.com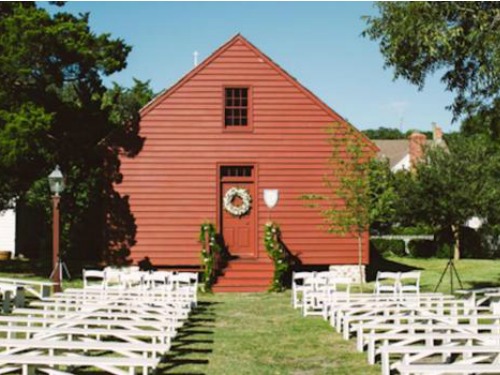 Beaufort Historic Site Grounds
The Beaufort Historic Site offers a spacious outdoor venue in which to hold your wedding, reception, or other memorable celebration! The site transports guests back in time, offering not only the perfect setting for your celebration, but also tours and activities for guests of all ages. The two-acre site provides a beautiful backdrop for your celebration, whether under the shade of the magnolia trees or classic white tents, or inside the the Carteret County Courthouse c. 1796, which has recently been restored in award-winning detail. Nestled in the Beaufort Historic Site are beautifully restored historic buildings, interpreted in period style, that include the old jail, the oldest wood-framed courthouse in the state, and an apothecary shop, Beaufort Historical Site, 130 Turner Street, Beaufort, NC 28516. 252-728-5225. beauforthistoricsite.org.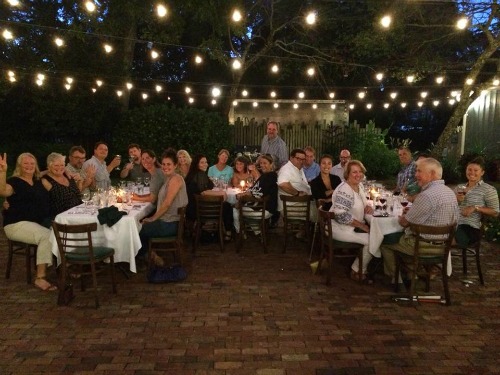 Beaufort Grocery Company Annex & Patio
Located next door to Beaufort Grocery Company, the Annex is perfect for special events. In 1994, the restaurant expanded to the adjacent property at 115 Queen Street where special dinners, private parties, wedding receptions, and other catered events are accommodated in the historic house, as well as in its beautifully landscaped garden. They can accommodate 60 people seated for a special event. The outdoor patio can seat 100. Cocktail receptions can accommodate 175 people using both the dining room and patio. Charles Park and his wife Wendy, established Beaufort Grocery Company in 1991 on the site of the old Owens Grocery Store. For over 25 years, Beaufort Grocery Company has been at the forefront of Beaufort's dining scene. Beaufort Grocery Company, 117 Queen Street, Beaufort, NC 28516. 252-728-3899. beaufortgrocery.com.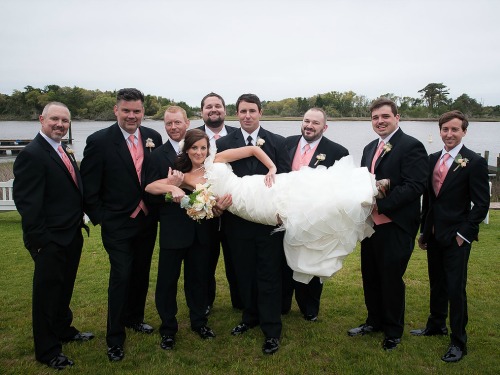 Beaufort Hotel
Hands down, this waterfront venue is considered one the premier event locations in Eastern North Carolina. The resort-style boutique hotel offers over 10,000 sq. ft. of flexible event space. Their staff will treat you and your special event as an exclusive celebration, with your taste selections and requirements being their top priority. Whether simple or spectacular, their staff will customize the perfect decor and catered menu to complement the vision for your special event. Their event staff has the experience and the culinary expertise to handle weddings, rehearsal dinners, receptions, corporate events, business meetings, team building events, trade shows, executive retreats, birthdays, anniversaries, theme parties, fishing tournaments, food festivals, fundraisers, and reunions! Beaufort Hotel, 2430 Lennoxville Road, Beaufort, NC 28516, 252-728-3000. beauforthotelnc.com.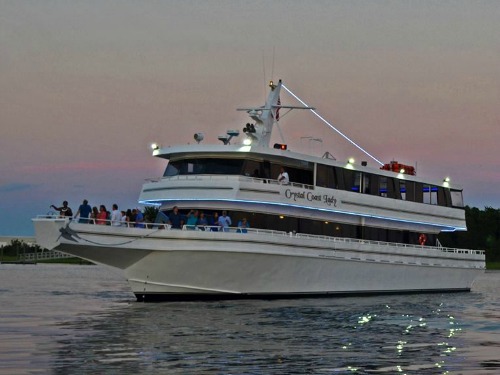 Crystal Coast Lady
The Crystal Coast Lady is the newest, largest, and most comfortable motor yacht on Eastern Carolina's Crystal Coast. They feature a large fully enclosed top deck with dance floor, state of the art sound and lighting system, additional restrooms, full bar, and Bridal Suite, top deck capacity of 185 people. The main deck includes a giant bow viewing area, renowned for creating amazing photo opportunities, a climate controlled cab, seating 80 people, a full bar, and restrooms. A total capacity of 265 people makes this vessel great for weddings, family reunions, and special events. The boat offers several daily departures from the Beaufort Docks at 600 Front Street. Crystal Coast Lady, 430 West Beaufort Road, Beaufort, NC 28516. 252-728-8687. crystalcoastlady.com. Please note: The Crystal Coast Lady is currently out of service for repairs.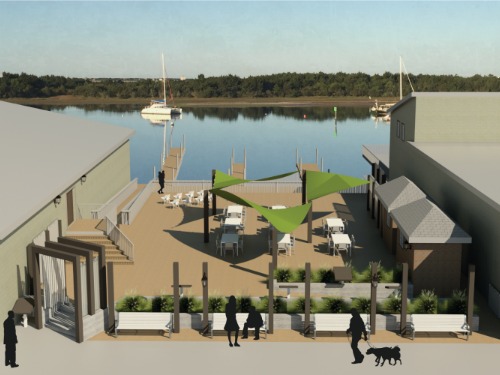 Harborside Park
Harborside Park is a privately financed project through the North Carolina Maritime Museum. It provides both a public and museum event area for the community to gather, enjoy, and call its own. The deck also provides waterfront views and access to enjoy sitting on the deck after a busy day of shopping in Beaufort. This venue is available for a limited number private events throughout the year. Overlooking Taylor's Creek, the venue is connected to the Museum's Harvey W. Smith Watercraft Center. The deck is used for the North Carolina Maritime Museum's educational programs and allows organizations like the Rachael Carson Reserve and others to use the deck. Donations welcome. For more information, contact the Museum for availability. North Carolina Maritime Museum, 315 Front Street, Beaufort, NC 28516. 252-504-7740. ncmaritimemuseumbeaufort.com.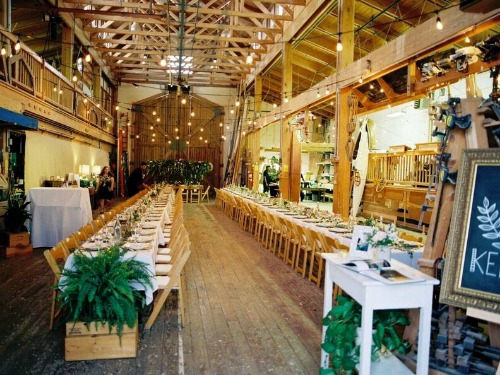 Harvey W. Smith Watercraft Center
Here's a unique opportunity to have your next event or wedding reception in an authentic boat shop. The Harvey W. Smith Watercraft Center is a working boatbuilding facility that comes alive as a traditional North Carolina wooden boatbuilding facility overlooking Taylor's Creek. The Watercraft Center is a venue with limited availability due to boat repairs, restorations, and hand-on courses held throughout the year.. There are very few dates available each year (usually late April/early May, late October/early November, and the last half of December). A wedding/event planner is required for these events. The maximum seating capacity is 140 reception, or 115 seated dinner. Call the North Carolina Maritime Museum for availability, open dates, and to receive their event planning guide. North Carolina Maritime Museum, 315 Front Street, Beaufort, NC 28516. 252-504-7740. thewatercraftcenter.com.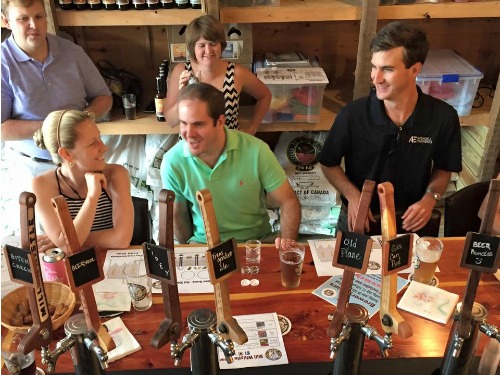 Mill Whistle Brewing
Mill Whistle Brewing is a great venue for smaller special events. From the outdoor patio to an outside tent, you'll enjoy your outing at Carteret County's first brewery. Mill Whistle Brewing is a one-barrel brewery that focuses on exceptional craft beers. This Nano brewery produces just 31 gallons of beer in a batch. By focusing on small batches of beer, they have been able to produce a wide variety of styles of beer, locally-inspired ales, and IPAs. The Beaufort-based brewery is located on the site of the 100-year-old Safrit Lumber Mill.  The manual business operates with a hands-on approach and is a nod to everything local about Carteret County, from the reclaimed wood used for the beer crates, to the names of the beer. You can still hear the whistle blow at 4:45 p.m. like it did for 125 years before the mill closed in the 70's. Locally owned and operated. Mill Whistle Brewing, 1354 Lennoxville Road, Beaufort, NC 28516. 252-342-6929.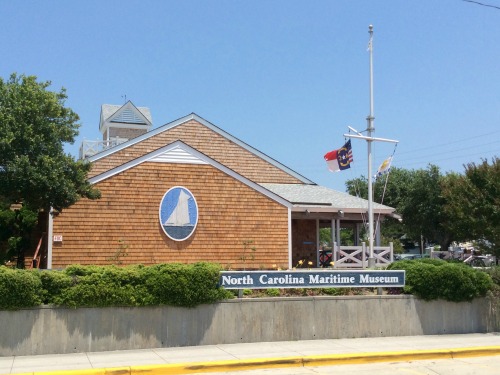 North Carolina Maritime Museum
The North Carolina Maritime Museum is the official repository for artifacts from Blackbeard's wrecked flagship, Queen Anne's Revenge, among them cannons, grenades, belt buckles and beads. If you are looking for a venue with lots of authentic North Carolina maritime history, this is the place. The Museum's Auditorium is ideal for larger groups and has a seating capacity of 100 people. For smaller groups, the Library can accommodate 20 people in a cozy and inviting space for board meetings or round table discussions. Internet capable with a conference table. The North Carolina Maritime Museum is a state run facility and has two additional venues including the Harvey W. Smith Watercraft Center and Harborside Park. North Carolina Maritime Museum, 315 Front Street, Beaufort, NC. 28516. 252-504-7740. ncmaritimemuseumbeaufort.com.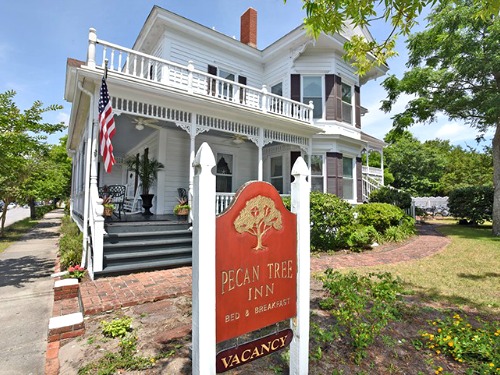 Pecan Tree Inn
The Pecan Tree Inn is a perfect North Carolina coastal getaway to the quaint town of Beaufort. This distinctive bed and breakfast inn offers 7-bedrooms with 8-bathrooms. This venue is Ideal for elopements, small outdoor weddings up 25 people, gathering of friends, family reunions and team building, stays for small groups. They can accommodate 14 guests. During these stays, they can organize activities per your needs. Packages are available for food & wine.  The innkeepers also do in-house catering for weddings. Located in the heart of Beaufort's historic district, you're within walking distance to restaurants, fishing charters & tours, bike, walking and culinary tours, outdoor activities, boat tours & water sports. Sailing excursions on a 45-foot catamaran. Pecan Tree Inn, 116 Queen Street, Beaufort, NC 28516. 252-728-6733. pecantree.com
BeauGro Food Truck
The food truck scene is constantly growing here in North Carolina, and Beaufort is no exception. In 2016, the BeauGro Food Truck first appeared on the local scene at Beaufort Wine & Food's annual April festival. Today, the food truck appears at many local events and can be booked for private events. Beaufort Grocery's food truck is one worth trying for your next event. This food truck has got you covered when it comes to your cravings. The variety of culinary creations is incredible. The truck is owned and operated by Beaufort Grocery Company, who use local and sustainable seafood, meat and produce. But what really sets BeauGro's food truck apart is its food. BeauGro's dishes consistently bring out incredible flavors from simple ingredients. And the menu changes for each outing, so you can always marvel over something new. Beaufort Grocery Company, 117 Queen Street, Beaufort, NC 28516. 252-728-3899. beaufortgrocery.com.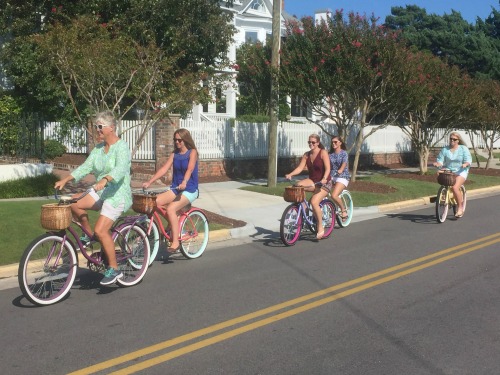 Hungry Town Tours
Getting married on the Crystal Coast? Hungry Town Tours offers a unique outing for your bridal party. The Ride with The Bride tour combines lots of interest into one. First, there's a bicycle or walking tour. Second, there's the beautiful scenery, and, third, there's the memories of your special day. Bike tours an walking tours can be customized with or without food options. Arrangements can be made for smaller and larger groups! From family reunions to girlfriend getaways and birthday to anniversary celebrations, choose from many different tours for your outing – even just the bicycle tour without food options. A Ride to Remember features places in Beaufort that were inspired by Nicholas Sparks and referenced in his books," The Choice" and "A Walk to Remember." Hungry Town Tours, 400 Front Street, Beaufort, NC 28516. 252-648-1011. hungrytowntours.com.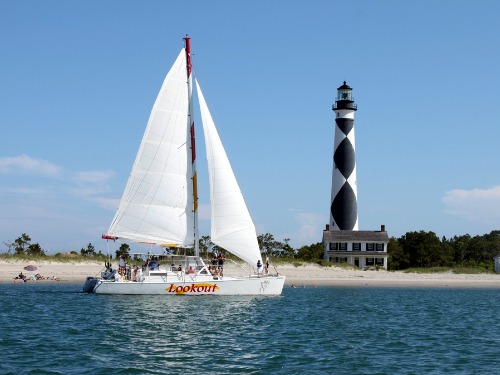 Lookout Cruises
Lookout Cruises offers private trips and charters for all occasions on board a 45-foot catamaran. They can accommodate weddings, wedding parties, rehearsals, receptions, and bachelor(ette) outings. Imagine your wedding ceremony on boar Private parties include birthdays, graduation, retirements, corporate outings, or any other event can be held on board this catamaran. Catering arrangements can be through many of Beaufort's fine restaurants. Amenities for up to 42 passengers include cushioned seating, plenty of shade, and large clean restrooms. Tours to Cape Lookout National Seashore available. Pick the date, time, and location, either on the boat or on the Cape Lookout National Seashore. Departures take place on the historic Beaufort waterfront. Lookout Cruises, 600 Front Street, Beaufort, NC 28516. 252-504-SAIL (7245) lookoutcruises.com.
Vintage English Double Decker Bus
The Beaufort Historic Site's vintage 1967 red English double decker bus is a popular attraction for those holding their wedding or other big event on the North Carolina coast. Gather your wedding party and other guests for a special tour of the town atop our bus which can carry up to 72 people! Even if you're not holding your wedding or big event at the Beaufort Historic Site, the red double decker bus is available for rental, and has been used for transporting guests to wedding receptions, events and functions at nearby North Carolina beaches, etc. If you are looking for a one-of-a-kind mode of group transportation, look no further for a 'wow' factor. We suggest booking in advance due to the popularity of the vintage bus that has become an icon in Beaufort. Beaufort Historical Site, 130 Turner Street, Beaufort, NC 28516. 252-728-5225. beauforthistoricsite.org.