Olde Beaufort Farmers' Market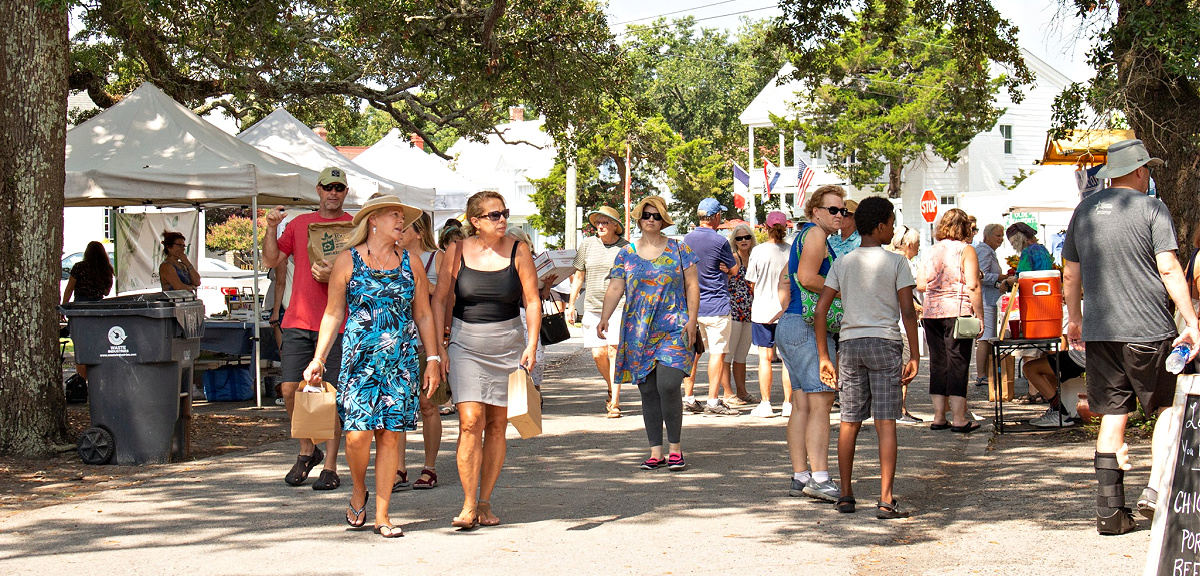 Carteret County Farmers and Fishermen. From farm to table and dish to dock.
Featured in Our State magazine, the Olde Beaufort Farmers' Market provides Beaufort and the surrounding communities a marketplace for local foods, arts, crafts, and information. Local farmers, food producers, craftsmen, and artists proudly sell their food and art that has been raised, created, and produced locally and by hand. Market themes vary week to week and include food trucks, live music, food demonstrations, and Southern hospitality. The market takes place every Saturday, under the live oak trees, on the grounds of the Carteret County Courthouse in Beaufort, North Carolina. 300 Courthouse Square, Beaufort, NC 28516. www.oldebeaufortfarmersmarket.org. Come and explore.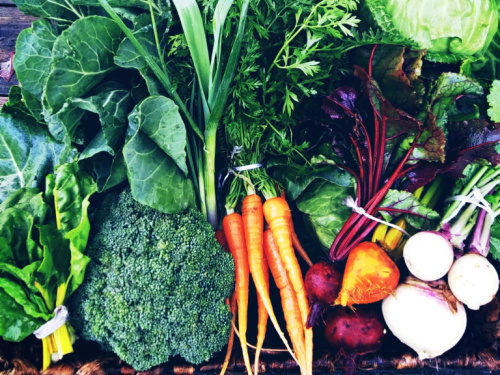 Weekly Saturday Markets
Discover locally produced fresh food from farmers and gardeners, fishermen, and bakers right here in Carteret County and the surrounding area. You'll find fresh fruits, vegetables, eggs, seafood, baked goods, plants, coffee, meats, and more. The market is also home to a group of artisans who produce a wide range of quality art and craft work including paintings, photography, pottery, candles, clothing, jewelry, and more. You'll find live music, occasional chef demos, and community organizations promoting local services. Visitors to the area appreciate being able to find a locally handcrafted gift to take home with them while they buy the makings for a home-grown picnic lunch. The market takes place under the live oak trees at the Carteret County Courthouse on Saturdays, 9 am – 1 pm from mid-April to the end of November. Weekly vendors are announced on Facebook and their website. The 2023 market season opened April 16th.
Related Article: Olde Beaufort Farmers' Market begins 9th season April 16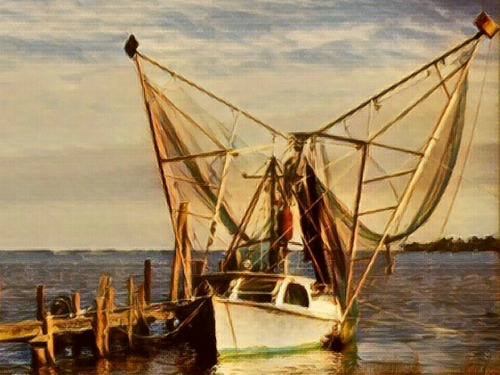 8th Farm to Table Dinner
The Olde Beaufort Farmers' Market will once again host a spectacular Farm-to-Table Dinner on Thursday evening, May 25 at 6 pm. It all takes place on the Harborside Park deck on Front Street in Beaufort across from the North Carolina Maritime Museum. Dinner will be prepared by several Beaufort restaurants with the freshest vegetables, meats, breads, and desserts provided by market vendors. Enjoy fellowship, adult beverages, and a beautiful sunset over Taylor's Creek at this unique event. Live entertainment by musician Michael Paull. Seating begins at 6 pm. Doors open at 5:15 pm. This event will sell out. Tickets are $75 per person and only available at oldebeaufortfarmersmarket.org.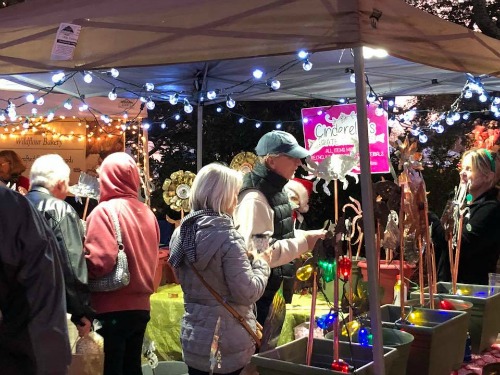 8th Annual Olde Fashioned Holiday Farmer's Market
Every holiday season, the community comes abuzz with excitement in anticipation of this beautiful evening event. A multitude of tents, festively lit and decorated with twinkly lights, red bows and fresh greens, are filled with friendly vendors offering homegrown vegetables, wild caught seafood, farm raised meats and eggs, and delicious homemade breads and baked goods all fresh from the farm and the kitchen. The market's local artists and craftspeople will be prepared with creative, unique, and quality handcrafted treasures from their studios to fill your holiday gift shopping list. Discover 85 vendors with homemade, handmade, and home grown products. The market typically draws 3,000 people. Young and old will find a healthy dose of the magic of the season as they wander down the lanes and through the pathways of the market. The 2022 Holiday Market takes place Saturday, December 17 from 4 – 8 pm.