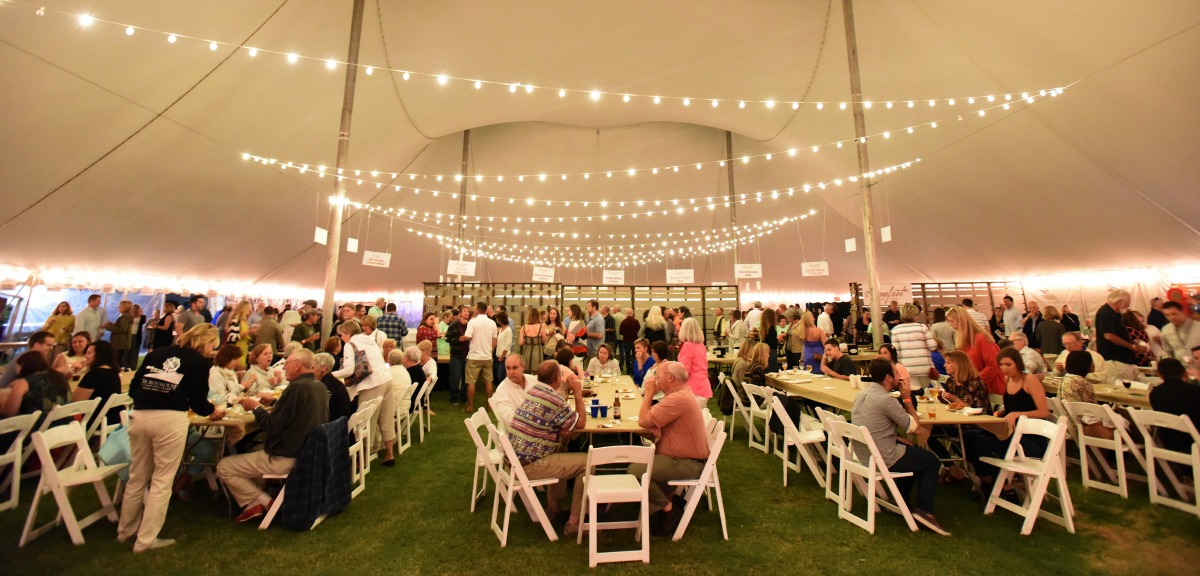 Enjoy premier culinary events, served all year.
Beaufort Wine & Food is a non-profit organization serves up several year-round events to benefit of Carteret County charities. The highlight is the annual Beaufort Wine & Food Weekend in April (yes, the weekend runs for five days). Named a "Top 20 Event in the Southeast" by the Southeast Tourism Society, guest chefs are paired with local chefs for creative wine dinners and tastings, an amazing champagne brunch, and a grand reserve auction. The event culminates with their popular Vin de Mer Epicurean Village.
Beaufort Wine & Food Weekend
Talent from around the world descends on Beaufort as guest chefs are paired up with some of the Crystal Coast's best restaurants for an unforgettable experience – All in the name of charity! The festival combines the public's appreciation for wine and food with its drive to support worthy local organizations, and has positioned itself as one of the area's premier tourism events. Beaufort Wine and Food's single largest event is the Vin de Mer Epicurean Village! Guests are immersed in a controlled chaos where 300 wine labels and dozens of local and regional restaurants come together in perfect harmony. Cooking demonstrations take place throughout the event. The 16th annual Beaufort Wine & Food Weekend takes place April 24-28, 2019.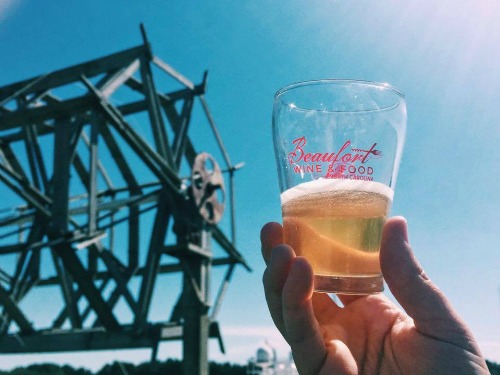 Beaufort's Brewin' Craft Beer Festival
From intimate beer dinners, luncheons and seminars to the 500-person Beer, Bubbles and BBQ tasting event, beer enthusiasts will enjoy a weekend highlighting North Carolina beer and beyond. Partnering with regional distributors and over two dozen breweries from across the state and beyond, Beaufort Wine & Food offers a stellar line up of events including a pub crawl, beer seminars, beer luncheons and dinners. In 2018, the two-day festival was streamlined to two events – Beaufort's Brewin' Pub Crawl and Beer, Bubbles and BBQ due to hurricane Florence. The organization gave $15,000 for hurricane relief to the Carteret County Public Schools Foundation. Beaufort's Brewin' 4th annual Craft Beer Festival will take place in September 2019.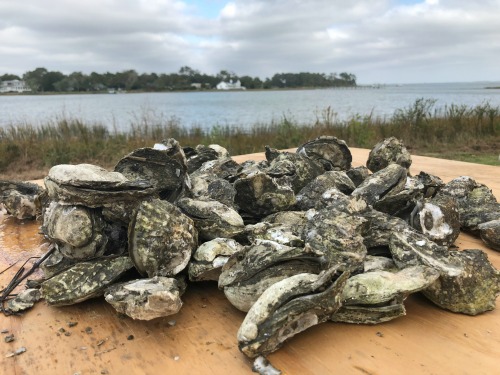 Annual Oyster Roast
Beaufort Wine & Food spotlights North Carolina's coastal & culinary heritage with its two-day annual oyster roast. The gathering celebrates the bounty of Eastern NC cuisine and will feature local steamed oysters, shrimp and other seafood selections along with North Carolina pork and poultry. There will be a variety of expertly paired wines and NC craft beer and guests can even purchase the wine selections at special BWF discounts. Winery representatives and brewers will be on hand to help guide guests through the culinary adventure.Hayrides, bonfires, a silent auction with large-format, rare and high-end wines, art, and more plus live music will round out the evening. This year, the 5th annual Oyster Roast takes place on Saturday, November 3, 2018.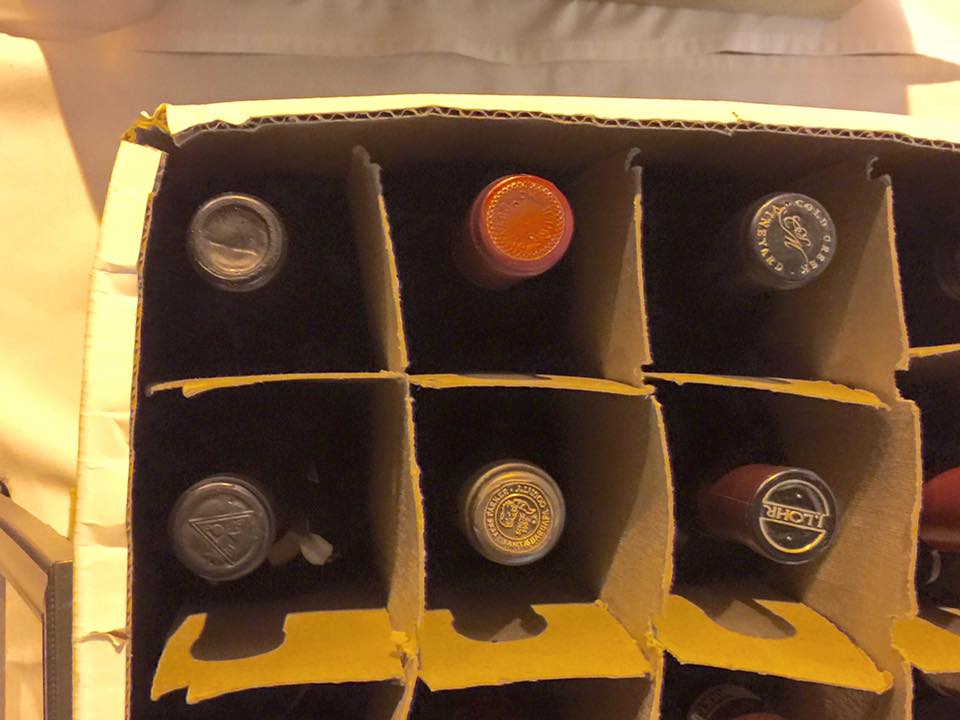 Weekly Wine Tastings
Here's your chance to shop a selection of boutique wines featured at BWF events. Wine enthusiasts will enjoy Beaufort Wine & Food's retail wine store on Friday and Saturday for a wine tasting from 4 p.m. – 8 p.m. Guests can enjoy tasting their choice of any four of the six wines for $5 per person, or try one each of all six for $7.50. These wines will be offered by the bottle at special prices this weekend only. Stock up for your weekend! Beaufort Wine and Food Private Label wines are always available at $5 per glass or $15 per bottle. Ask about our discount for any 3 bottle purchase. These are lovely French Rhone Valley wines. The retail wine store is open Mon – Thur from 10 a.m. – 4 p.m., Friday from 10 a.m. – 8 p.m. and Saturday evenings from 3 – 8 p.m. Beaufort Wine & Food is located at 129 Middle Lane, Historic Beaufort.
Giving back to the community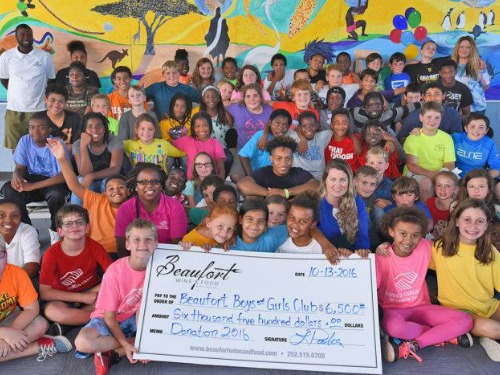 Local non-profits receive over $720,000
Beaufort Wine and Food is a 501(c)(3) nonprofit organization whose mission is to host premier wine and food events to benefit other non-profits that excel in community enrichment and enhance quality of life in Carteret County. Beaufort Wine & Food's mission is to support local charities and non-profits that strive to improve life in Carteret County. Since its first festival in 2004, Beaufort Wine & Food has donated over $720,000 to area nonprofits.
Purchase Tickets
For more information: email: beaufortwineandfood@gmail.com or call: 252-515-0708. Purchase tickets online at www.beaufortwineandfood.com or in-person at Beaufort Wine & Food, 129 Middle Lane, Beaufort, NC 28516. Note: Guests must be 21 years of age or older to attend any BW&F events, no exceptions. Tickets are non-refundable as these events are for charity.