The sounds of New Orleans and succulent Creole cuisine will be coming to Beaufort as part of the Mardi Gras on Middle Lane. It's the celebration of food, drink, music and, of course, the parade. Beaufort's annual Mardi Gras on Middle Lane is set for Saturday, February 26, 2022. The event starts at 2 p.m. and runs until 6 p.m. but you'll want to get there early.
Local restaurants including Aqua, Beaufort Grocery Company, Clawson's 1905 Restaurant & Pub, and Cru Wine Bar will offer Cajun cuisine at their food booths up and down Middle Lane. It's the place for attendees to enjoy Mardi Gras standards like gumbo, smoked sausages, barbecue, shrimp, po'boys, muffuletta, jambalaya, and king cakes.
---
ADVERTISEMENT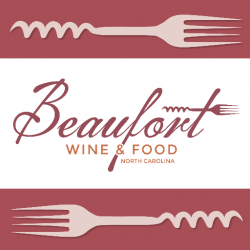 ---
Special Louisana beers will be featured at The Backstreet Pub and Hurricanes will be offered by Aqua.  New-Orleans-inspired Bourbon Street Punch will be available from Cru Wine Bar.
The Backstreet Pub will even be hosting an Oyster Roast.  You can also wind down with beignets and café au lait available from the Beaufort Development Association.
Music will be provided by Blue Moon Jazz to welcome partygoers starting at 2 p.m. Out of Nowhere will perform a blend of blues and dance music throughout the afternoon.
Middle Lane takes center stage as the home to Beaufort's annual Mardi Gras celebration!  The highlight, of which, is arguably the shortest parade in North Carolina.  It's a true display of Beaufort's quirkiness.  The parade of "krewes" in costume tossing jewelry and charms is not to be missed.
The Sweet Potato Queens always seem to steal the show! The group of women, aged 40-70, all dress in elaborate costumes and perform choreographed routines.
The crowds fill Middle Lane in anticipation of the parade starting at 3 p.m., with the crowning of the Mardi Gras King and Queen. If you're late… there's always next year. The parade is that quick.
Mardi Gras on Middle Lane is a community supported event that's become a popular street carnival filled with Cajun music & jazz!  Costumes are strongly encouraged.
Be sure to bring the kids along for the face painting and mask making experience under the tents. The gaming area has something fun for all ages. Children will enjoy the face painting and mask making booths. Adults can challenge each other to a round of boules or cornhole.
Mardi Gras on Middle Lane is sponsored by the Downtown Beaufort Development Association. Proceeds from krewe fees support future events and marketing efforts.
After going to Mardi Gras on Middle Lane, you'll understand why Beaufort was named to the list of "America's Quirkiest Towns" in September 2014 by Travel + Leisure Magazine. We guarantee you'll be back next year – with your costume and beads!
---
HOW TO JOIN THE "KREWE" PARADE
To enter and register a "krewe" in the foot parade there is a $50 fee. Contact Liz Kopf at lizkopf@gmail.com or 252-728-7108 for more details.
No motorized vehicles are allowed in the parade.
---
WHEN YOU GO:
Dates:  Saturday, February 26, 2022
Hours:  2 p.m. – 6 p.m.  The parade starts at 3 p.m. sharp.
Price:  Free
Parking:  Downtown Beaufort
Address:  114 Middle Lane, Beaufort, NC, 28516.
Telephone:  252-728-7108
Website: www.beaufortnc.com
Social Media:  Facebook
Need to Know:  Be sure to get to the event early as the crowds fill Middle Lane.
Accommodations:  Plan to come to Beaufort for the weekend and stay in one of our local hotels, inns and B&B's.  Visit the official website for Beaufort at www.beinbeaufort.com
Questions?  Contact Liz Kopf at lizkopf@gmail.com or 252-728-7108 for more details.
---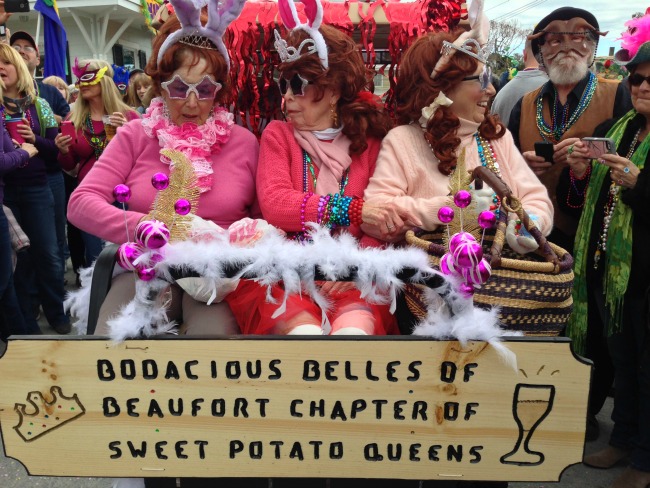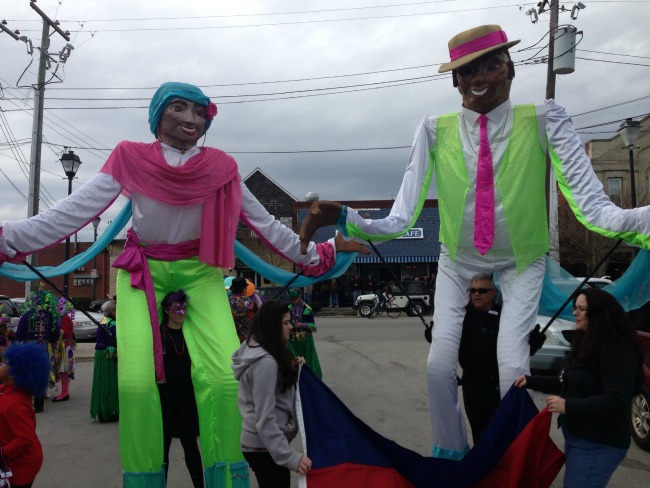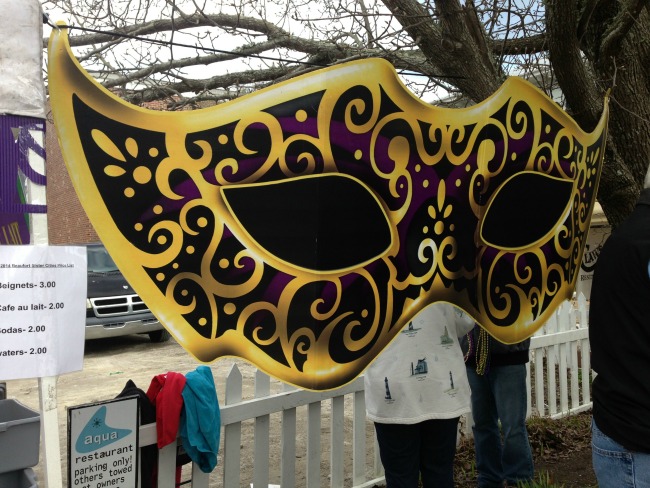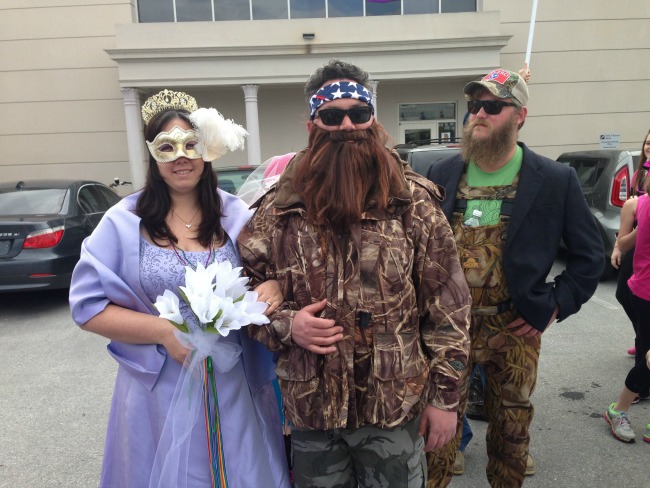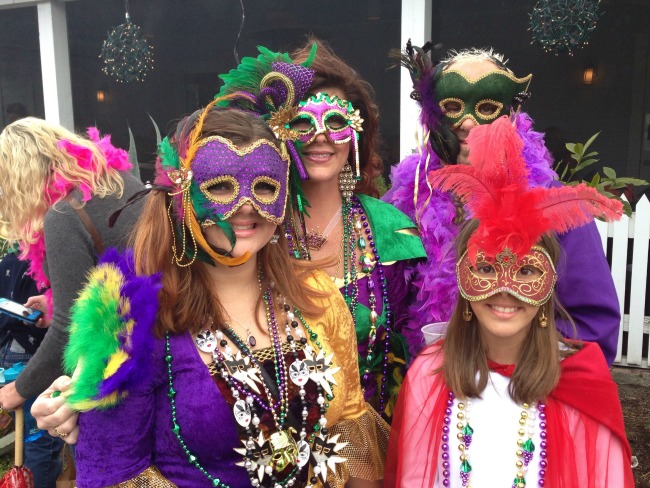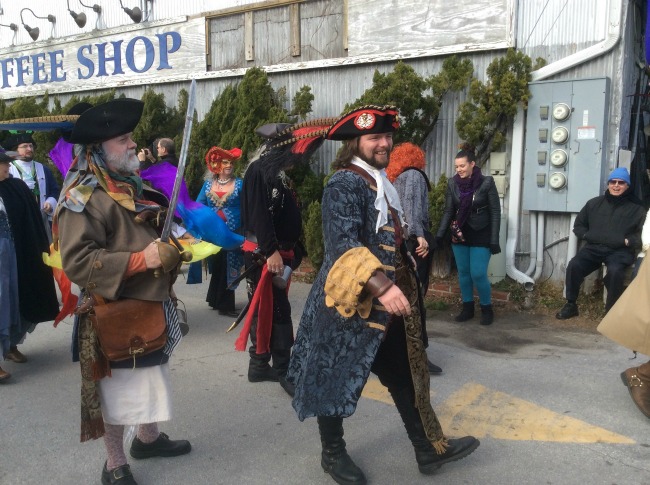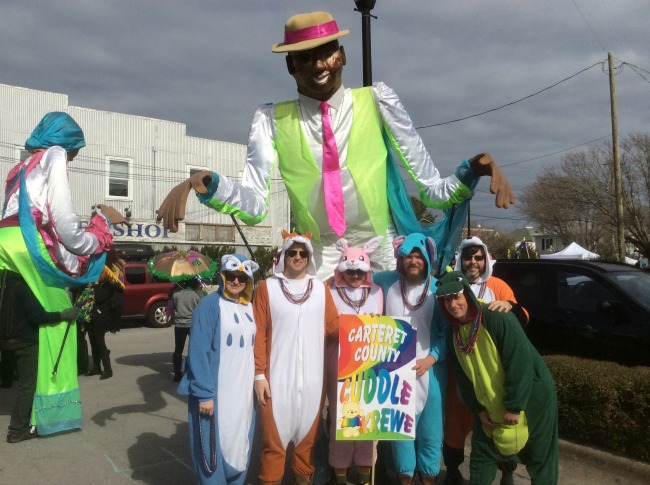 Images provided by Betsy Cartier.
---
STAY CONNECTED TO BEAUFORT
Don't miss the boat!  Stay connected with "America's Favorite Town" so you'll be up-to-date on the events, activities, and things to do throughout the year in Beaufort, North Carolina.
Most of all, become part of Beaufort's online community!  Be sure to like us on Facebook and follow us on Twitter.
---